Breaking News The Porto Protocol Is Leading The Climate Of Wine
Posted: Jan 14, 2019
---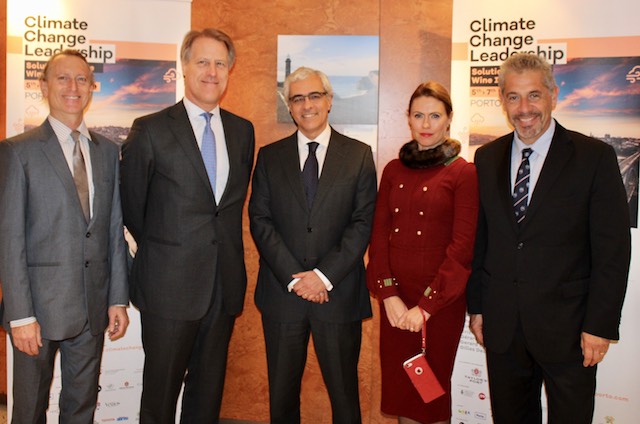 ---
Following the July 6, 2018 launch of the Porto Protocol by President Barack Obama, US Vice-President and Nobel Laureate Al Gore will address the wine industry and its supporters March 5-7, 2019 at Portugal's Alfandega Conference Centre in Porto of the challenges the wine world faces due to climate change during the Climate Change Leadership Porto - Solutions for the Wine Industry conference (CCL-Porto19).
Internationally renowned presenters Miguel Torres, Banfi ?s Cristina Mariani-May, Krug ?s CEO Margareth Henriquez, Prof. Roger Boulton of UC-Davis, António Amorim, climatologist Dr. Greg Jones, Switzerland's Dr. José Vouillamoz, Àlvaro Gonzalez of Concha y Toro, Bollinger's Gilles Descôtes, South African water specialist Heinrich Schloms, Britain's Jamie Goode and Richard Halstead, Gérard Bertrand from the eponymous Languedoc winery amongst many others will share their studies, practical experiences, and strategies in mitigating the effects of climate change.
With US Vice-President and Nobel Laureate Al Gore its keynote speaker, the international CCL-Porto19 conference creates a platform for the wine industry to mitigate the impacts of a changing climate enabling all sectors of the wine industry and its supporters to cooperate in developing a safe and sustainable future.
The Ambassador of Portugal to the U.S. Domingos Fezas Vital shared that "as it was made clear at last year's conference in Porto, climate change is the biggest threat to future generations. This same conclusion was recently reached by the United Nations's International Panel of Climate Change in a report issued at the end of 2018 in which we are all called to take action before it is too late...that expert report makes adamantly evident the challenges we all face, the impact and risks of inaction, and the costs we will all have to endure if we do not change course."
"In this context I am very proud to see Portugal leading the way in positioning itself at the forefront of a project that aims at bringing the wine industry together facing these challenges by providing shared solutions in addressing them. This is a collective effort that serves to show how much an old nation such as Portugal can combine its ancient history with a forward looking attitude embracing the future with innovation, creativity, commitment and passion. But to make a difference in changing course, to take action to curb carbon dioxide emissions while maintaining a competitive and thriving wine industry, we all need to work together. This is the main purpose of the 2019 Climate Change Leadership Conference."

For conference information and registration please visit www.climatechange-porto.com. More information about the Porto Protocol and membership is at www.portoprotocol.com.

The Climate Change Leadership Porto initiative is a joint effort of various entities from the public and private sector that aim to bring awareness, share practices and call to action the agriculture supply chain regarding climate change policy.

QUOTE BY ADRIAN BRIDGE
"The Climate Change Leadership conference will share real experiences and provide effective solutions of real examples of what companies are doing to mitigate climate change," said Adrian Bridge, CEO of Taylor's Port, the main organizer of the event. "If we share our successes and experiences, we will all benefit. The Porto Protocol commits its participants to adopt and promote concrete actions reducing the impact of climate change, and welcomes the participation of institutions, companies and individuals from all areas."

WASHINGTON DC - JANUARY 9, 2019 (Photography appearing from left to right; David Furer, CCL Host; Adrian Bridge, CEO Taylor Fladgate; Portuguese Ambassador Domingos Fezas Vital, Sofia D'alte, Portuguese Embassy Economic and Financial Counselor; Pancho Campo, CCL Director)
Source: Climatechange-porto.com
January 9, 2019
---
---
Go-Wine Sharing and Promotion
Go-Wine's mission is to organize food and beverage information and make it universally accessible and beneficial. These are the benefits of sharing your article in Go-Wine.com
It Generates Free Traffic to your site.
Your Article Will Get Indexed Faster.
Your Google Rankings Will Rise. Google Rise Articles with Positive Participation & Contribution.
Your Article Will Reach New Customers and Audience. Go-Wine has a selected audience and visitors from over 120 countries.
You always receive credit - you will be cited accurately (Author, Website & Hyperlink).
The integrity of the Information is not compromised - you always will be linked to the most up to date version of your article.
Contact Us for more information.