Scotch Whisky Vs. American Whiskey: Who Won 2018?
Posted: Dec 07, 2018
---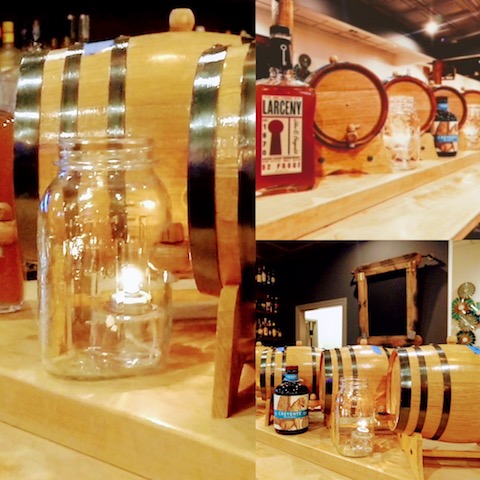 ---
Starting out with American whiskey, the past few years have been great for the industry. According to the Distilled Spirits Council, domestic American whiskey consumption amounted to over $3.4 billion in revenue for distillers while the export market brought in over $667 million. The growth domestically has steadily risen each year, with the more premium categories recently gaining momentum. According to the report: 'Reflecting America's increased interest in premium products, over the past five years, high-end premium, and super-premium brands drove growth. High-end premium revenues were up 46% and Super-Premium 148%.'
While the export numbers for American whiskey as a whole are growing, these statistics show a drop in bourbon whiskey exports over the past 5 years, while rye, single malts, and other categories grew. This is most likely down to high percentages of premium bourbon releases being hunted and purchased domestically, without much left to send out to other countries. Some would assume this drop in exports is a worrying matter but looking at the findings from the Kentucky Distillers' Association, Kentucky's bourbon distilleries ramped up production in 2017 to keep up with demand, bringing the state's inventory to over 7.5m barrels of aging whiskey, the highest number since 1972.

Millennials getting into whiskey, paired with the booming cocktail scene in the U.S., and whiskey's image being modernized, is leading the younger population to explore whiskey and be educated on the spirit. On the secondary market, limited releases like Pappy Van Winkle, older age statements by Michter's, the Buffalo Trace Antique Collection, and many others lead collectors to endlessly hunt down bottles, even when sold at astronomical prices on the secondary market. The many awards American whiskey has been receiving at global spirits competitions recently are only making the rarer bottles harder to find. With highly limited allocations, liquor store owners across the country hold bottles for their most loyal customers, making it hard for newcomers to acquire any. As one can imagine not much leaves the country.

Looking at Scotch, exports recently hit an all-time high, with HM Revenue and Customs showing export sales reached over $5.5 billion in 2017. Scotch sales by value grew by 8.9% showing a steady move towards the more premium single malt category. Accounting for over 20% of the United Kingdom's food and drink industry, Scotch whisky is of the utmost importance. Again, showing their love for whiskey, the U.S. remains the largest import market for Scotch by value, accounting for over 1.1 million Scotch whisky sales.

The Chief Executive of the Scotch Whisky Association, Karen Betts comments of the export statistics of Scotch: 'More Scotch whisky is enjoyed across the world than American, Canadian and Irish whiskies combined. Our analysis of 2017 exports shows just how well the industry is doing in our 180 markets. This reflects the industry's determination and hard work to take high-quality Scotch whisky to consumers all over the world.'

Looking beyond numbers, Scotch seems to dominate the Asian market. The bigger Scotch brands entered the market early and have established a very strong presence in China, Singapore, Hong Kong, and Taiwan. Taiwan, in particular, is a very important market for the Scotch single malt industry and receives some of the largest allocations in the world. Sadly, American whiskey hasn't caught on as well in Asia and instead is popular in the UK and Europe, and as mentioned, domestically.

In terms of experimentation and modernization, the American whiskey industry is leading the way. Several distilleries have started producing the first American single malts, while countless small distilleries are popping up all across the country, and experimenting with different grains, wood types, and distillation methods. While bourbon also adheres to many rules surrounding production, Scotch is held back greatly by the strict rules put forth by the Scotch Whisky Association. While these rules are what keep the image and quality of Scotch at its best, they can sometimes hinder creativity and experimentation. Several Scotch whisky makers have successfully attempted to make their labels and branding hipper and enter the dynamic world cocktail scene, but the U.S. whiskey market is, in a way, newer and regarded as more modern.

Looking at the auction market the Scotch whisky industry reigns supreme. The main rivalry at the moment within the auction world is between Japanese whisky and Scotch, but the recent sale of the Macallan 1926 by Christie's for over $1.5 million puts Scotch back in first place.

Both Scotch whisky and American whiskey are growing steadily in different categories, and both have been greatly affected by the recent tariffs imposed and changes in government. American whiskey was hit around the world after President Trump decided to raise tariffs on foreign goods coming into the U.S. Across the pond, the United Kingdom has been desperately trying to protect Scotch whisky exports as Brexit approaches.

Just days ago, however, positive news surfaced as the Scotch Whisky Association stated that they are backing Teresa May's recent proposal: 'On balance, the draft Withdrawal Agreement and accompanying Political Declaration on the Future UK-EU Relationship stand up well against the Scotch Whisky industry's Brexit priorities. The SWA, therefore, supports approval of the two negotiated texts by the UK and European Parliaments.'

Shining in different markets, pursuing different flavours, and working well-together (ex-Bourbon cask aged Scotch, anyone?), the Scotch and American whiskey industries are both growing fast. Scotch takes home the trophy for biggest export numbers, while American whiskey leads the way for new distilleries, products, and domestic consumption. Both are dealing with tariffs and issues with new leadership, making the future a little unstable. One thing is for sure, the years ahead will only grow increasingly interesting for both categories.

By George Koutakis
December 6, 2018
Source and full article: Forbes.com
---
---
Go-Wine Sharing and Promotion
Go-Wine's mission is to organize food and beverage information and make it universally accessible and beneficial. These are the benefits of sharing your article in Go-Wine.com
It Generates Free Traffic to your site.
Your Article Will Get Indexed Faster.
Your Google Rankings Will Rise. Google Rise Articles with Positive Participation & Contribution.
Your Article Will Reach New Customers and Audience. Go-Wine has a selected audience and visitors from over 120 countries.
You always receive credit - you will be cited accurately (Author, Website & Hyperlink).
The integrity of the Information is not compromised - you always will be linked to the most up to date version of your article.
Contact Us for more information.